Professional Athlete, Kevin Martin, Shooting Guard of the Minnesota Timberwolves, suffers a Broken Wrist
Kevin Martin broken wrist is a big blow to the Minnesota Timberwolves.
The Wolves are now also missing Ricky Rubio, Nikola Pekovic, and Thaddeus Young.
Martin has been integral to the team, averaging 20.4 points.
Apparently Martin was sick that day, requiring IV fluids for an illness that he was battling. Playing under less-than-optimal health conditions seems to have cost him dearly as he is now out indefinitely. ally a game-time decision that night after needing IV fluids while battling an illness for most of the day.
Kevin Martin broken wrist occurred with 6:48 to play in the first quarter when he was fouled while shooting a 3-pointer. He was actually able to continue play and go on to score 34 points and make six out of nine 3-point attempts. The Timberwolves were able to break a five-game losing streak.
There has been no mention of the need for surgery for Kevin Martin broken wrist. A tweet from Timberwolves PR on Twitter confirmed that an MRI was performed at Mayo Clinic Square on Martins right wrist, revealing the fracture.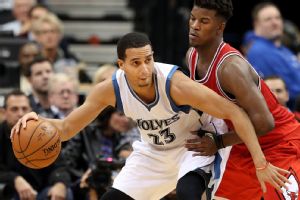 AP Photo/Jim Mone
Although the nature of the injury is unclear, what is clear is that even professional athletes can suffer injuries under what seem to be innocuous circumstances, such as a fall from a standing position. Bruising of the fingers, hand, or wrist could be indicative of a severe injury such as a fracture. Professional medical attention is recommended for these types of concerns and a Hand Surgeon is well-qualified to diagnosis and treat such injuries. Dr. Arora is one such qualified individual, a practicing Hand Surgery Specialist in Michigan.